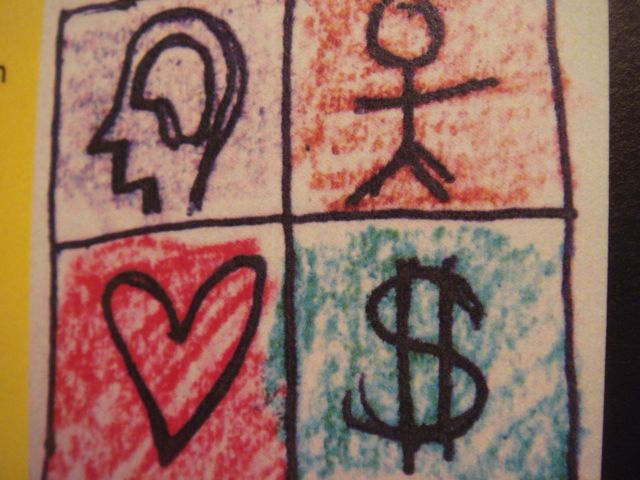 Updated December 5, 2010. Originally posted October 17, 2008.
Hello and welcome. Here's the deal, I'm 51, married 27 years, Cub Scout Dad (son, 10), Professional Speaker as a career trade, and the Internet's Only Five-a-Day Blogger.
There's something very powerful in this for you, if you have a willing heart.
Do you struggle to find Peace and Contentment in your life?
You are not alone.
You know this, right?
Being a Human makes us perfectly imperfect.
And yet, ultimately Love is all that matters.
Love (easily & obviously) becomes omnipotent when you consider the opposite, hate.
A no-brainer, as some people say.
Yet we struggle as a global community to agree on the source of Love.
Maybe we should all agree to disagree on the source, but collectively never waiver in our commitment to Love, to Faith, and to Hope.
Don't we all dream of world peace? Of justice, equality? Of an end to hunger and poverty? For cures to incurable diseases? For new and better ways to employ the unemployed?
You are searching for answers no doubt, to the big questions you have.
There's a far different approach in mind here.
As you hope for others to change, instead, would you consider opening your heart, and pray for your deepest, most sincere humility, to find the strength to start with yourself, first.
To become more compassionate, more understanding, more tolerant.
More loving.
Because, if you are not open to consider a better path, nothing here will encourage you.
The tag line was carefully and intuitively thought out: Surrender. Self Control. Service.
What can you expect to find here that will help you?
For starters, a humble servant. A Father who desperately wants to do work that matters.
No different than you, or anyone else, perhaps.
Through writing five daily, and differently-themed blogs, it is a childhood dream to help make the world a better place.
It is in trying to live as a humble servant, the hope arises of inspiring others by the courage of my own example. As an older parent (51) of a young son, my life has slowly been reprioritized.
It's been joyously wonderful and painfully challenging. And, the biggest change is that instead of a "mid-life crisis", I've come to discover a "Mid Life Celebration".
In setting out to achieve several "impossible" goals, it is my hope for you, that you will follow along and be inspired to go after your own "impossible" goals.
The motivation we can both draw from? The simple fact that we will not live forever. If we are smart enough and strong enough to quit making excuses, we can leave our world and the people we love in a much better place.
The impossible goals?
1. Raise enough money to find a cure for our son's Disease.
2. Live past the age of 60. No male on my Dad's side has done this.
3. Enhance some (dysfunctional) family relationships, before any of us die.
4. Compete at the 2009 Masters World Championships, in Finland. (done)
5. Hear the words, "Well done my good and faithful servant".