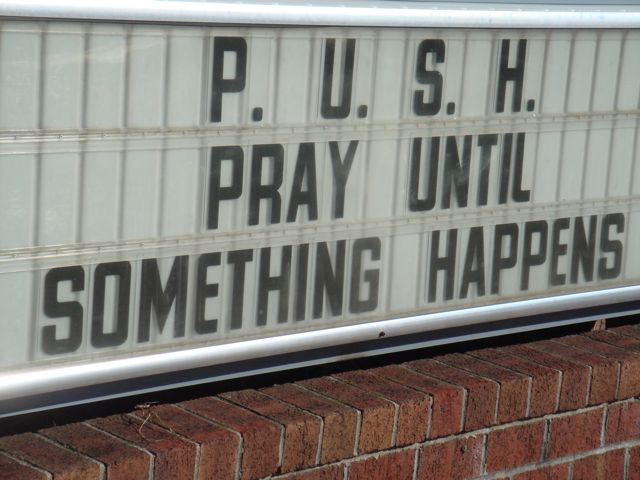 Almost daily we hear of new afflictions or tragedies, impacting someone we know or a friend of someone we know.
It can be overwhelming.
Just keep P.U.S.H.ing…
Over the weekend, my friend David Balentine shared the following email. Because of it's impact on my spirit, I asked David if Laura and Janet would bless the sharing of it. They did. Here it is:
Dear Brothers and Sisters in Christ,
My cousin Laura had a CT scan and unfortunately the tumors are growing in her lungs, but fortunately have not moved to other organs. She is still waiting on becoming a member of a new trial for advanced breast cancer patients.
Below is her feelings on the news, that I wanted to share with you. I think you will find it uplifting.
"I know the plans I have for you declares the Lord. Plans for welfare, and not for calamity; plans to give you a future and a hope." Jeremiah 29:11
Thank you so much for your continued prayers, my precious prayer warriors. Today God said – "Not yet." The scan showed that the cancer has grown, but has not spread to any other organs. The medicine at UAB is still not in. My doctor is doing a little research to determine if I should start traveling to get it (which would be to Nashville) or if I should start something else. So I'm not sure what the next course of treatment will look like. I should hear from her in the next few days.
Today was one of the best days ever in my spiritual walk. Part of me wants to keep it closed up and not even share it, because it seems like words will only diminish it. But I will do my best!
I can't even describe to you how, not only peaceful, but joyful and happy I've been today. Im aware of scriptures that say things like "in everything give thanks," and "a joyful heart is good medicine," and, well, you could fill in the blank here with hundreds of scriptures. And the Lord has always been gracious to bring me out of my place of mourning and restore joy to my heart. But that has always been a process that takes a long time. Today was different.
Today, God guarded my heart so incredibly closely. The only way to describe it is supernatural. The arrows of Satan simply could not penetrate the seal of protection that God had placed around me. There were no tears. No anxiety. No sadness. No frustration. In fact, after the doctor gave me the news, she and I had a conversation about something else and we were laughing together. And I know why all of that happened. It was because of God, but it was through you. I have received emails, CaringBridge posts, and text messages from so many of you who have been diligently praying. You have been so faithful to keep me before the Throne of Grace. And today, I felt it. And I felt it in a way that I will never forget.
Would I take a bad scan in exchange for the spiritual lesson I learned today? Absolutely. That's how powerful it was. The only thought that kept going through my mind was, "I didn't know it could be like this… " I mean, I knew with my head, but now I know with my heart. I feel like Will feels when he's playing a video game and some new move opens up a whole new world. I feel like there are so many new opportunities for me in the crazy walk called life now that I have truly experienced the awesome protection of God the Father. "Fear not" has more meaning than it ever has. Today, I walked through the valley of the shadow of death and feared no evil; because He was with me – comforting me. In fact, the only scripture that I even thought about today was Jeremiah 29:11. Bill and I both just kept saying over and over, "welfare, future, hope."
So thank you. Words are so inadequate, but thank you my army of soldiers for being so faithful to pray. "The prayer of a righteous person has great power as it is working." James 5:16(b). God worked mightily in my life today because of your prayers. Thank you for holding my arms up during a time when I was so, so tired. I feel completely rejuvenated after today's experience.
One last scripture reference: "When you pass through the waters, I will be with you; and through the rivers, they shall not overwhelm you; when you walk through fire you shall not be burned, and the flame shall not consume you. For I am the LORD your God! Isaiah 43:2-3
Thankful for all of you, and praising my Father for his realm of sweet protection,
Laura
After Laura wrote this, she received some wonderful news. Someone she had gone to school with is a nurse in Nashville and that very day she saw Laura's paper work on her desk and that she has been accepted in the breast cancer trial in Nashville.
God is so good!!!! Please continue to pray for Laura and Bill and her young family.
In Christian Love,
Janet