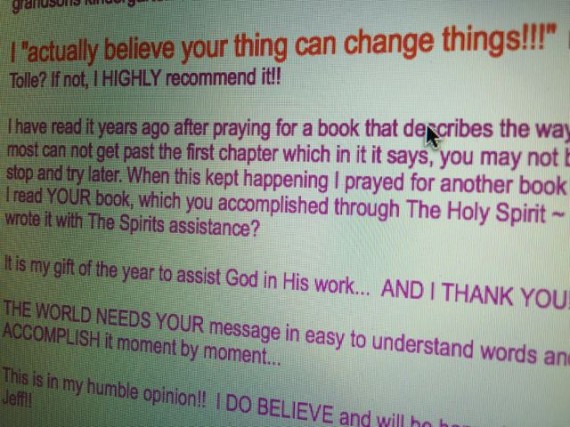 (photo: the actual email above, copied and pasted below…)
Hey Jeff!! I have a few min here, i was with the grandkids yesterday and today i go to "work" and to my grandsons kindergarten class. 🙂
I "actually believe your thing can change things!!!"
Have you read A NEW EARTH by Eckart Tolle? If not, I HIGHLY recommend it!!
I have read it years ago after praying for a book that describes the way I live. I read it, shared it with many, but most can not get past the first chapter which in it it says, you may not be ready to hear/understand this, if not, stop and try later. When this kept happening I prayed for another book to say it in easier terms ~ WHALAAAA!! I read YOUR book, which you accomplished through The Holy Spirit ~ I am certain!! Are you as certain that you wrote it with The Spirits assistance?
It is my gift of the year to assist God in His work… AND I THANK YOU!!!
THE WORLD NEEDS YOUR message in easy to understand words and (to me and you) easy ways they CAN ACCOMPLISH it moment by moment…
This is in my humble opinion!! I DO BELIEVE and will be happy to spread the word of your newest adventure Jeff!!
Next Blog